~ FYMN (For You Michael Neill) ~
Title: 'FYMN'
∞ Photo 1: 'Configuration 1'
∞
Photos 2-10
: 'Various fun shots (iPhone)'
Artist: Sab Will
Date: 2018
Material: acrylic paint on nine composite squares
Dimensions: height 15 cm / width 15 cm (approx.)
Location: United States (February 2018) not available for purchase
Condition: New / Excellent
Artist's Commentary:
This is part of my kick-start project to get back into painting, still on the
infini²
theme, which I'm still as passionate as ever.
This one was what could be a new series in a lighthearted and more accessible vein: smiley art! I did this one for a mentor of mine called
Michael Neill
and this painting will probably be with him as you read these words. It was such fun to do and great to know that it was going to a great person who should appreciate it too which is always nice :-)
So where do I go from here? That is my big question, and to be honest I'm not short on options, just time. I've already got some backgrounds painted waiting for the actual design so there should be lots more new stuff here on
infini²
very soon. If you'd like a special one just for you and your desk, for example, to cheer up your working day, just let me know.
Special Note:
FYMN
is part of my life-long
infini²
(infinity squared) concept. It is painted on nine 5cm x 5cm (approx.) square composite blocks and doesn't have a fixed configuration. Starting with any of the square blocks in the middle position, for example, a complete and coherent painting can always be created by putting the others together around it like a jigsaw.
Daring Desktop Art:
This handy desktop format, complete with mini easel and support is ideal for your desktop at home or work and my
infinity²
concept is sure to intrigue your visitors and offer you endless fun as you can reconfigure your painting in new ways every day!
Any of my
infini2
paintings on canvas can be played with in this way, even once the painting is finished, thanks to a special frame and mounting system. So you can, if you wish, create your own, unique painting, and change it around whenever you want. For more information on the
infini2
concept, including a demonstration video, go to the
infini2 page here
. or click the image below.
Let me know what you think - comments welcome as ever!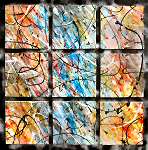 ___________________________________________________________________________________________________________
'FYMN' © 2018 Sab Will / Paris Set Me Free - Contact me directly for exhibitions, interviews, orders, etc.