>>>>

Emotions In Colour

~ Africatime ~

>>>>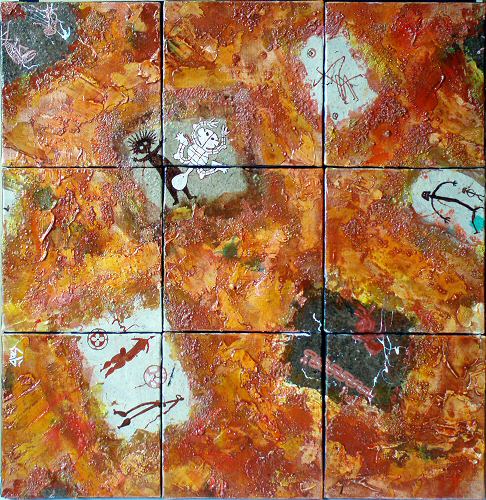 Africatime, by Sab Will, private collection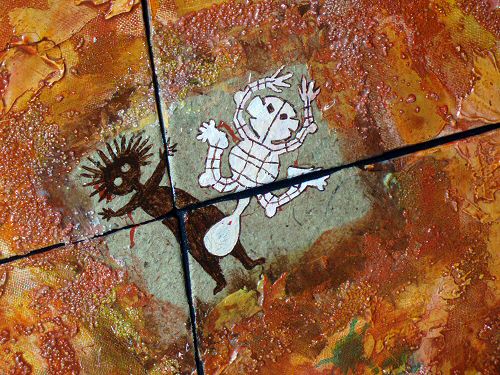 Title: 'Africatime'
Artist: Sab Will
Date: 2008
Material: acrylic paint, sand on canvas and textured paper
Dimensions: height 60 cm / width 60 cm
Including special frame: height 66 cm / width 66 cm
Current Location: private collection, France
Current Status: available for purchase
Artist's Commentary: Not possessing the ability (nor the desire) to paint realistically, I'm very attracted to more sylised representations of us humans as found in African and Aboriginal cave and primitive art. The imaginations which created these originally must have had a unique way of seeing humankind, and I can only pay hommage to them by humbly copying a few in this painting.
I wanted to try and imitate visually the ruggedness or dryness of the desert, and I've done this by using many earthy, natural colours - browns and oranges and rusty colours like that. I've also including a generous helping of modelling paste and sand, so you can drag your finger nails across the painting (well, you could if you were in front of it and the owner let you do so, which they probably wouldn't.. ;-) and pretend you're suffering under the desert heat like the little characters in the painting probably did.
Another thing I enjoyed doing with this painting was incorporate some marvellous textured paper into the piece, you know, those ones made by hand with all sorts of interesting things incorporated into it. Three or four different types of this sort of paper go to make up the background to the character drawings, and I've varied the earthy colours with the different papers to keep it interesting.
Personally, I love this painting, as it represents a lot for me. A reawakening of my artistic painterly spirit, which had been subdued and playing second fiddle, as it were, to photography which took up a lot of my time this year.
It also gave me a great chance to experiment more with materials and application techniques, and also to try my hand at incorporating some 'real' images into my highly textured background for once.
Special Note:
'Africatime' is part of the 'infini2' (infinity squared) concept. It is painted on nine smaller 20 cm x 20 cm canvases and done not have a fixed configuration. Starting with any of the small square canvases in the middle position, for example, a complete and coherent painting can always be created by putting the others together like a jigsaw. This allows you to create your own, unique painting, and to changed it around whenever you want. For more information on the
infini2
concept, including a demonstration video, please go to the
infini2 page here
.
Let me know what you think - comments welcome as ever!