>>>>

Emotions In Colour

~ Earth Lies Bleeding ~

>>>>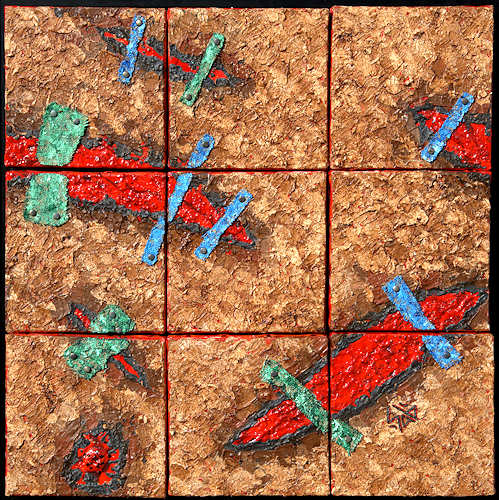 Earth Lies Bleeding, by Sab Will, 2008, available for purchase
Title: 'Earth Lies Bleeding'
Artist: Sab Will
Date: 2008
Material: acrylic paint, sand, modelling paste, strips of canvas and metal pins on canvas
Dimensions: height 60 cm / width 60 cm
Including special frame: height 66 cm / width 66 cm
Current Location: Paris, France
Current Status: available for purchase
Artist's Commentary: This is maybe my first picture in the infinity squared series to make a strong statement - that of being aware of what we are doing to the Earth, our only possible home.
I'm not strongly political, but I often feel rather guilty for, quite frankly, doing practically nothing towards some of the woes of the day. So without stooping to preaching, which I would be spectacularly unqualified to do, I was attracted to the idea of at least representing pictorially my interpretation of what's going on.
The rugged and highly textured browny background represents the charred and hurtin' Earth, the bright red raw slashes the wounds we are inflicting upon it. And I've even thrown an erupting volcano of sorts in there for good measure. And the blue and green strips of fraying canvas, singed at the edges and desperately hanging on with their corroding metal pins are.. did you guess it..? The seas and forests (or any life you like) trying frantically to heal the scars.
It was fun to do and a great experiment in texture as well as sticking stuff on, which I'm getting more and more into, for the amazing possibilities it opens up. I particularly love the scruffy paint just about hanging on to the stuck on strips of canvas and I'm really pleased with the way the metal pins came out. I heated them on the gas to get rid of that horribly bright clean shiny look they came with and now they are interestingly discoloured and fit in much better with the whole idea.
There's definitely a long way to go, both with the techniques used and the theme itself, but as I tend to do a new painting on a whim which doesn't seem particularly related to anything else, I certainly couldn't tell you the next time I'll do such an environmentally focused piece will be.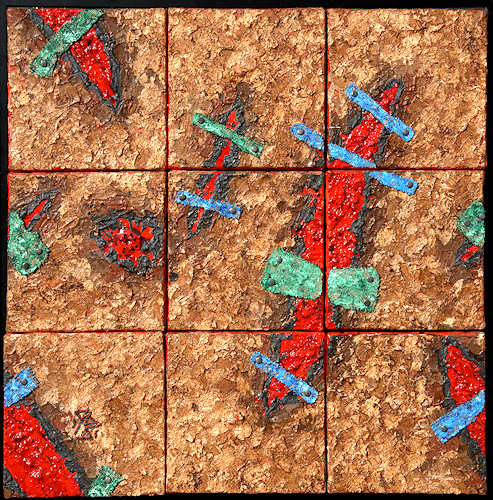 Earth Lies Bleeding, by Sab Will, 2008, available for purchase
Special Note:
Earth Lies Bleeding
is part of the 'infini2' (infinity squared) concept. It is painted on nine smaller 20 cm x 20 cm canvases and done not have a fixed configuration. Starting with any of the small square canvases in the middle position, for example, a complete and coherent painting can always be created by putting the others together like a jigsaw.
For example, the picture just above here, directly before the words 'Special Note' is literally the same painting as the one at the start of this page. This allows you to create your own, unique painting, and to change it around whenever you want. For more information on the
infini2
concept, including a demonstration video, please go to the
infini2 page here
.
Let me know what you think - comments welcome as ever!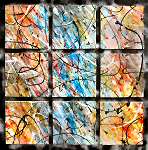 ___________________________________________________________________________________________________________
infini2 ~ 'Earth Lies Bleeding' © 2010 Sab Will / Paris Set Me Free - Contact me directly for exhibitions, interviews, orders, etc.