Have To Whisper 2, by Sab Will, 2010

Title: 'Have To Whisper 2'
Artist: Sab Will
Date: 2010
Material: acrylic paint and aerosol, on ceramic tiles, mounted on smoothish off-white wall
Dimensions: height 33 cm / width 33 cm (approx.)
Location: Rue de l'Admiral Mouchez, (Paris 13)
Condition: mounted on wall - condition excellent
Artist's Commentary:
The second and final in this series, where I experimented with aerosols for the first time. It's strange, but I honestly can't decide whether I like it or not. I do when I see a nice shiny picture of it like the one above, but when I'm just contemplating it vaguely in my mind I feel there's something not quite right. I think it's still the hand-painted bits interacting with the spray paint that's giving me trouble, but the main thing, like a poem, is that it's out there in Internetsville and Parisland, so let's get over it and move on.
Have To Whisper 2 is really on a miserable hunk of wall on a boring corner but a not uninteresting road, which has some other examples of street art from some of the best-known: there's an Invader, and a Miss.Tic in very poor condition and some other interesting stuff too. There were a few likely looking wall stumps further down this street, but there were quite a few people around and they were a bit too conspicuous so I went for this corner, which happens to be just outside a friend of mine's apartment and he laughed when he saw it.
There's something with this which is quite nice, and that's that you can only see it if you are walking towards it. That might mean that only half the potential audience see it, but then again it's right in the faces of those going the right way. I doubt that anyone would turn their heads to look at this bit of wall if they were coming towards us in this picture above, but it would be nice if someone did!
What I'd love to know most is what thoughts my pictures create in people's brains. I wonder if they are wondering who does these things and maybe even how they could get in touch and see more. I wonder if anyone will look at the picture in detail and try and work out the hints of how to learn about the artist and even end up reading these words! If you are someone who is here having come through that route then you are particularly welcome! I rather like the dog's reaction above, by the way, in one of the location shots, where he seems to be seeking out a suitable post to urinate on having just passed the subject of this posting and my efforts. Maybe the truest reaction of all ;-)
Not too much more to say about this one because it's already history, and as I mentioned above with the poems, as soon as it's out and up there, I have very little interest in it other than as a historical document which often seems to belong to another, or someone else's life.
Special Note:
Although
Have To Whisper 2
is now on tiles which are fixed permanently to a wall in the streets of Paris, it is, nonetheless, part of the 'infini2' (infinity squared) concept. It is painted on nine 10.8 cm x 10.8 cm tiles and done not have a fixed configuration. Starting with any of the small square tiles in the middle position, for example, a complete and coherent painting can always be created by putting the others together like a jigsaw.
Any of my
infini2
paintings on canvas can be played with in this way, even once the painting is finished, thanks to its special frame and mounting system. So you can, if you wish, create your own, unique painting, and change it around whenever you want. For more information on the
infini2
concept, including a demonstration video (also below), please go to the
infini2 page here
.
Let me know what you think - comments welcome as ever!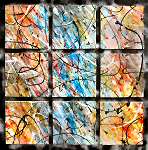 ___________________________________________________________________________________________________________
'Have To Whisper 2' © 2010 Sab Will / Paris Set Me Free - Contact me directly for exhibitions, interviews, orders, etc.