>>>>

Emotions In Colour

~ Shape Shifter 2 ~

>>>>

Shape Shifter 2, by Sab Will, 2010
Title: 'Shape Shifter 2'
Artist: Sab Will
Date: 2010
Material: acrylic paint with various mediums and additives, on ceramic tiles, mounted on peeling painted wall
Dimensions: height 33 cm / width 33 cm (approx.)
Location: Avenue René Coty (Paris 14)
Condition: mounted on wall - condition excellent
Artist's Commentary:
This is the second and probably last in this series to be mounted on a Paris wall. I have done three but have been advised to keep hold of one copy for future exhibitions and suchlike, so I'll be hanging on to the last piece for the time being.
It's a bit of a shame because I intended the last one to have the round orange circle completely split up and gracing each corner which would be nice but I'll have to do that on some other works.
So this idea of keeping hold of one in each series fits in well with my starting to do series of four instead of three. Three is a good number to put up on the streets I reckon and still hold onto one for myself or whoever wants to buy it.
So here is this one, and I'm pretty pleased with where it's ended up. Originally I had in mind the actual staircase leading up to
rue des Artistes
, but when I actually went there I thought it would be taking away from the natural charm of the place, so I decided to put it a few metres away, next to a bus stop, where it will hopefully cheer up a few people as they head off to work. You can see the staircase I'm talking about sloping away behind the bus stop in one of the pictures above, by the way.
I'm also pretty stoked, as they say, about the way my
iPhone
pictures turned out, which you can also see on the relevant
Paris and I
blog entries
here
. I'm seeing this additional element of trying to create something new and original by photographing my street art in the context of its environment as a very complementary and enriching and integral part of the project. That was a long sentence. In the absence of direct feedback for the time being, it's pretty exciting to see someone at least looking at my stuff as part of their daily grind.
The first iPhone pic of
Shape Shifter 2
above is really cool, I reckon immodestly, because of the way it interacts with the square trellis thing on the rather distinctive building next door, and I love the angles as well. I wonder if anyone else has thought that too.
The second picture below is a double exposure done in camera at the time of shooting, with me trying to line up the soggy autumn leaves at my feet with the close up of the image from the wall. Not perfect but ok.
I'm still waiting for my first return on my street art, but it's extremely early days yet, and also I haven't exactly put the web address on each pic, so I guess that'll take some time, but it'll still be a thrill when I finally see that someone has posted a picture of one of my works on some blog somewhere!
Special Note:
Although
Shape Shifter 2
is now on tiles which are fixed permanently to a wall in the streets of Paris, it is, nonetheless, part of the 'infini2' (infinity squared) concept. It is painted on nine 10.8 cm x 10.8 cm tiles and done not have a fixed configuration. Starting with any of the small square tiles in the middle position, for example, a complete and coherent painting can always be created by putting the others together like a jigsaw.
Any of my
infini2
paintings on canvas can be played with in this way, even once the painting is finished, thanks to its special frame and mounting system. So you can, if you wish, create your own, unique painting, and change it around whenever you want. For more information on the
infini2
concept, including a demonstration video (also below), please go to the
infini2 page here
.
Let me know what you think - comments welcome as ever!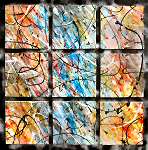 ___________________________________________________________________________________________________________
infini2 ~ 'Shape Shifter 2' © 2010 Sab Will / Paris Set Me Free - Contact me directly for exhibitions, interviews, orders, etc.