~ White Here, Write Now ~
Title: 'White Here, Write Now'
∞ Version 1: 'White Here, Write Now'
Artist: Sab Will
Date: 2012
Material: acrylic paint on marble conglomerate tiles
Dimensions: height 15.9 cm / width 15.9 cm (approx.)
Location: Currently with artist (June 2012) and available for purchase, otherwise shortly to be mounted in Paris streets
Condition: New / Excellent
Artist's Commentary:
A new departure, by using smaller tiles, I'm looking both for something which will be easier to put up in the streets of Paris, and which will be 'cuter' and more compact than the larger flat wall tiles I've used up until now.
I also like the fact that these tiles are much less regular in appearance. You couldn't get anything more regular than the white ceramic 'bathroom' tiles I've used so far. These are a different beast altogether, with extremely irregular edges and surfaces, which lend their own personality to the work in a very pleasing way.
There's not much point me trying to line up these things perfectly; it just won't happen! They have a will of their own, especially when you try to force them into a nice, neat three by three grid; they're having none of it. Which adds to their charm, I philosophise...
Special Note:
White Here, Write Now
is part of my 'infini
2
' (infinity squared) concept. They are painted on nine 5.3cm x 5.3cm (approx.) square tiles and don't have a fixed configuration. Starting with any of the small square tiles in the middle position, for example, a complete and coherent painting can always be created by putting the others together like a jigsaw.
Any of my
infini2
paintings on canvas can be played with in this way, even once the painting is finished, thanks to a special frame and mounting system. So you can, if you wish, create your own, unique painting, and change it around whenever you want. For more information on the
infini2
concept, including a demonstration video, go to the
infini2 page here
. or click the image below.
Let me know what you think - comments welcome as ever!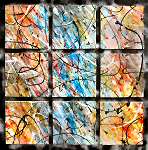 ___________________________________________________________________________________________________________
'White Here, Write Now' © 2012 Sab Will / Paris Set Me Free - Contact me directly for exhibitions, interviews, orders, etc.