Title: 'Moonhead'
∞ Photo 1: 'Configuration 1'
∞
Photo 2
: 'Configuration 2'
Artist: Sab Will
Date: 2012
Material: acrylic paint on nine canvas squares
Dimensions: height 60 cm / width 60 cm (approx.)
Location: Currently with artist (September 2012) and available for purchase
Condition: New / Excellent
Artist's Commentary:
This is the result of some intense absorption of some of my major influences, namely Kandinski, Klee and Miro.
I'm pleased because for once I was able to produce something I'm pretty pleased with, from scratch, in a couple of days without any major repaints or changes of direction. I've been experiencing some serious existential artistic angst recently, so to be able to produce something like this fairly spontaneously is encouraging. No preliminary sketch was used but I was heavily influenced by a Miro painting which I used to see both if I was able to produce something comparable and also to see if this seemed to be a direction I'd like to pursue. On both counts the answer seems to be yes.
Special Note:
Moonhead
is part of my 'infini
2
' (infinity squared) concept. It is painted on nine 20cm x 20cm (approx.) square canvases and doesn't have a fixed configuration. Starting with any of the square canvases in the middle position, for example, a complete and coherent painting can always be created by putting the others together like a jigsaw.
Any of my
infini2
paintings on canvas can be played with in this way, even once the painting is finished, thanks to a special frame and mounting system. So you can, if you wish, create your own, unique painting, and change it around whenever you want. For more information on the
infini2
concept, including a demonstration video, go to the
infini2 page here
. or click the image below.
Let me know what you think - comments welcome as ever!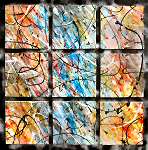 ___________________________________________________________________________________________________________
'White Here, Write Now' © 2012 Sab Will / Paris Set Me Free - Contact me directly for exhibitions, interviews, orders, etc.