~ Rainbow Down (unfinished) ~
Title: 'Rainbow Down'
∞ Photo 1: 'Configuration 1'
∞
Photo 2
: 'Not available'
Artist: Sab Will
Date: 2017
Material: acrylic paint on nine composite squares
Dimensions: height 15 cm / width 15 cm (approx.)
Location: Paris, France with owner (November 2017) not available for purchase
Condition: New / Excellent
Artist's Commentary:
I didn't have the chance to take proper photos of this and it isn't finished in the picture above so this is just for the record.
Here I'm happy to say that I'm back in business after a few years away from the canvas. This new series is actually not on canvas but on pieces of chopped up hardboard type composite stuff, or something. It's really cute, it's for a desktop and sits beautifully on its little easel - see next entry for a finished piece to see what I mean.
I'm particularly excited about this because it's going to be easier and quicker to produce lots of
infini²
pieces and get them into more hands and on more desktops. I've also got plans to target more of a professional clientele, incorporating an inspirational message into the boring old world of business - let's do this thing!
Special Note:
Rainbow Down
is part of my 'infini
2
' (infinity squared) concept. It is painted on nine 5cm x 5cm (approx.) square composite blocks and doesn't have a fixed configuration. Starting with any of the square blocks in the middle position, for example, a complete and coherent painting can always be created by putting the others together around it like a jigsaw.
Any of my
infini2
paintings on canvas can be played with in this way, even once the painting is finished, thanks to a special frame and mounting system. So you can, if you wish, create your own, unique painting, and change it around whenever you want. For more information on the
infini2
concept, including a demonstration video, go to the
infini2 page here
. or click the image below.
Let me know what you think - comments welcome as ever!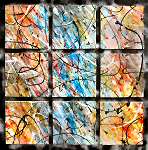 ___________________________________________________________________________________________________________
'Rainbow Down' © 2017 Sab Will / Paris Set Me Free - Contact me directly for exhibitions, interviews, orders, etc.